Light up a Village is an on-going project which provides solar panels, LED lights and shortwave radios to people in remote and rural villages throughout the Asia Pacific region, with a particular focus on India.
The need is great.  Over 700 million people in India alone do not have reliable access to electricity.  They are forced to live in darkness.  Can you image what it would be like to change the lives of every family in your street?  You can do this for families by getting involved in 'Light up a Village'.
Your involvement and commitment to this cause will not only bring natural light to millions of people, but spiritual light too.  It will reach unreached people groups and those who have limited access to the gospel with the life changing message of the gospel.
How does it work?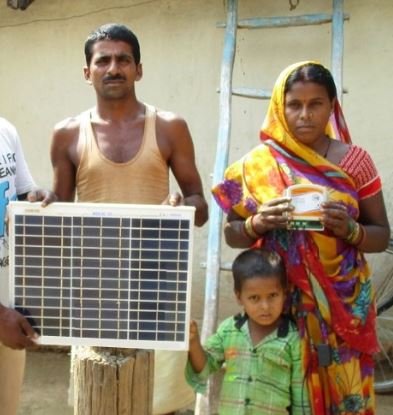 We place a solar panel with multiple charging ports in each village, including LED lights and robust portable shortwave radios.  The LED lights have a small battery like those in mobile phones.  The villagers recharge their batteries during the day so they can use them at night.  A 20 minute charge will provide light for up to 8 hours.  By packaging a shortwave radio with a light we are able to give them two things – the message of hope, spiritual light, and the benefit of natural light.
Effectively, an entire village is 'lit up' and can hear the message of Christ.  Please help us to light up more villages.
Your gift of $55 will provide a solar panel, LED light and shortwave radio for one family.
Your gift of $550 will provide a village with a solar panel, 10 LED lights and 10 shortwave radios.
With God's help, and your valued support, we know that the light will shine brightly for a long time to come.
to 'Light Up A Village'
He was willing to walk 160 kilometres!
One boy heard how we are providing radios and was desperate for an opportunity to obtain a radio for his village in India.
Christopher tells this story:
I had travelled to a small village. The pastor I met there looks after about 65 villages and cares and ministers to many families. He wanted us to come to an outreach he was organising – as his guests, "The people from Delhi who are on the radio".
We made sure that some of the listeners and some of the new people that came to the outreach would have a shortwave radio to take back to their village. Often remote areas lack a radio. We don't actually sell them but ask a token 10 or 20 rupees, which is like a few cents, so that they would have ownership of it and value it.
You have come so far…
On the last day I was sitting down after the meetings watching the people go back home and this boy came to me and stood next to me for a long time. I asked him, "What do you want? Where are you from?" He said, "I wanted a radio". I said, "There are radios over there, go and check". He said in a sad voice, "There are no radios there, everything is gone".
I usually have one or two in my bag. There was one radio left. I said, "What do you have for this radio?" He replied, "I have 60 rupees (almost $1.20)". I then asked him how he had come to this meeting and what had brought him here. He said, "I come from a village that is about 160 kilometres from here. Others were coming so I thought 'let me come also and see what is happening'".
He had spent 60 rupees on the bus to come to this place and had 60 rupees to get back home. So he gave the 60 rupees and took the radio. I asked him, "How are you going to go back?" He said, "I am going to walk the 160 kilometres". I was shocked! I returned the money and said, "Friend, here is your money, you go back by bus".