When we began our 'Light up a Village' project in late 2014 we had no idea that God would exceed our expectations.
The project began with the desire to provide solar panels, LED lights and shortwave radios to unreached people in remote and rural villages throughout the Asia Pacific region, with a particular focus on India. We still do this and have now reached over 100 villages!  However, we have come to realise that 'Light up a Village' is much more and embodies ALL that we do. 
God has given us opportunities to 'light up' villages right across the region with the message of His love. Through our media and community development initiatives we continue to find the most effective ways to reach unreached people everywhere and provide them with an opportunity to hear about Jesus, to see Him in action, and to learn how to follow Him.
Whether it is broadcasting shortwave from Kununurra in far North Western Australia, the ongoing provision of solar panels, LED lights and shortwave radios, the rapidly expanding WhatsApp project, or sharing the gospel through other forms of media, your gift can be directed to the ministry of Reach Beyond generally or any of our specific initiatives to help us continue to light up villages.
to 'Light Up A Village'
---

Our WhatsApp Story
Since May 2020, we have been using WhatsApp to distribute short, encouraging messages in audio and text messages in five different languages.   At last count we are reaching over 25,000 people daily.  We are excited with how the Lord multiplies the fruit from our efforts in ways that exceed our capability.
Below are two recent WhatsApp testimonies:

"I am a taxi driver, and not allowed to work during this pandemic and lockdown. I was helping a lady to open her clinic shutter, when another man came and thanked me for my help, since he was supposed to do that work. I was sharing about my situation to him. He then shared a WhatsApp message to encourage me, before praying for me. He told me that God will surely bless me and will not leave me. I have now started receiving these messages instantly through WhatsApp. I should tell you that I was not a believer until I received this message. I am forwarding this message to so many people."
"I have been so sad since I lost my job, as there is no income to take care of my family.  On my mobile phone, I received the Word of God from you through WhatsApp.  I wasn't going to play it, as I was so vexed and was murmuring against God.  My son took my phone to play games and he unintentionally pressed the button in the notification centre.  It played your message and that message was just for me.  It said, 'Don't give up.  God is on your side.'  It was like an angel of the Lord coming home and speaking to me.  I am now regularly listening to the Word of God.  15 days later, I got a new job and my salary is higher than the previous job!"
---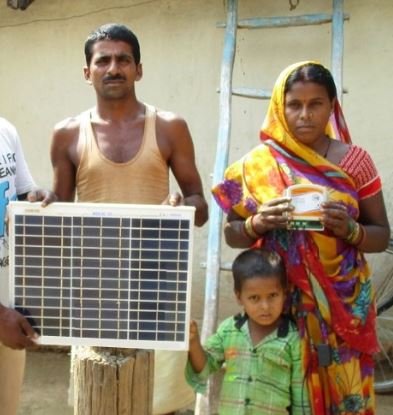 A Radio Story
Christopher, a leader of our team in India shares this story:
I had travelled to a small village.  The pastor I met there looks after about 65 villages and cares and ministers to many families.  He wanted us to come to an outreach he was organising – as his guests, 'The people from Delhi who are on the radio'.
We made sure that some of the listeners and some of the new people that came to the outreach would have a shortwave radio to take back to their village.  Often remote areas lack a radio.  We don't actually sell them but ask a token 10 or 20 rupees, which is like a few cents, so that they would have ownership of it and value it.
On the last day I was sitting down after the meetings watching the people go back home and this boy came to me and stood next to me for a long time.  I asked him, "What do you want?  Where are you from?"  He said, "I wanted a radio".  I said, "There are radios over there, go and check".  He said in a sad voice, "There are no radios there, everything is gone".
I usually have one or two in my bag. There was one radio left.  I said, "What do you have for this radio?"  He replied, "I have 60 rupees (almost $1.20)".  I then asked him how he had come to this meeting and what had brought him here.  He said, "I come from a village that is about 160 kilometres from here.  Others were coming so I thought 'let me come also and see what is happening'".
He had spent 60 rupees on the bus to come to this place and had 60 rupees to get back home.  So he gave the 60 rupees and took the radio.  I asked him, "How are you going to go back?"  He said, "I am going to walk the 160 kilometres".  I was shocked!  I returned the money and said, "Friend, here is your money, you go back by bus".